Risograph or Riso in essence is eco-friendly,
paper-based screenprinting – in a machine!

The Short Answer:
The machine creates a stencil from your artwork & wraps it
around a drum of ink. As the drum rolls in the machine, paper is
pulled through & ink is pressed through the voids onto the sheet.
The Full Low Down:
Artwork can be sent to the machine via the scanner (for hand-
rendered artwork) or a PDF file (for digital work). The Riso reads
the tones of your image & using a thermal Lazor it cuts the design into
a sheet of plant-based paper & resin, creating a stencil, or 'Master'.
This is then wrapped around a drum of ink & paper is automatically
pulled into the machine. As the sheet passes through, soy ink floods
the drum body allowing the ink to push through the voids of the
stencil & impress your artwork onto the paper as the drum rotates.

Each ink drum is a single colour (a spot colour). We currently have
Blue, Pink, Yellow, Black and Red drums currently. Artwork can be
printed in a single colour or a combination of these colours. As the ink
is soy-based it has an opacity that allows the spot colours to overlap
on the sheet – creating new blended colours. This means with only four
colours you are even able to simulate four colour CMKY photographs!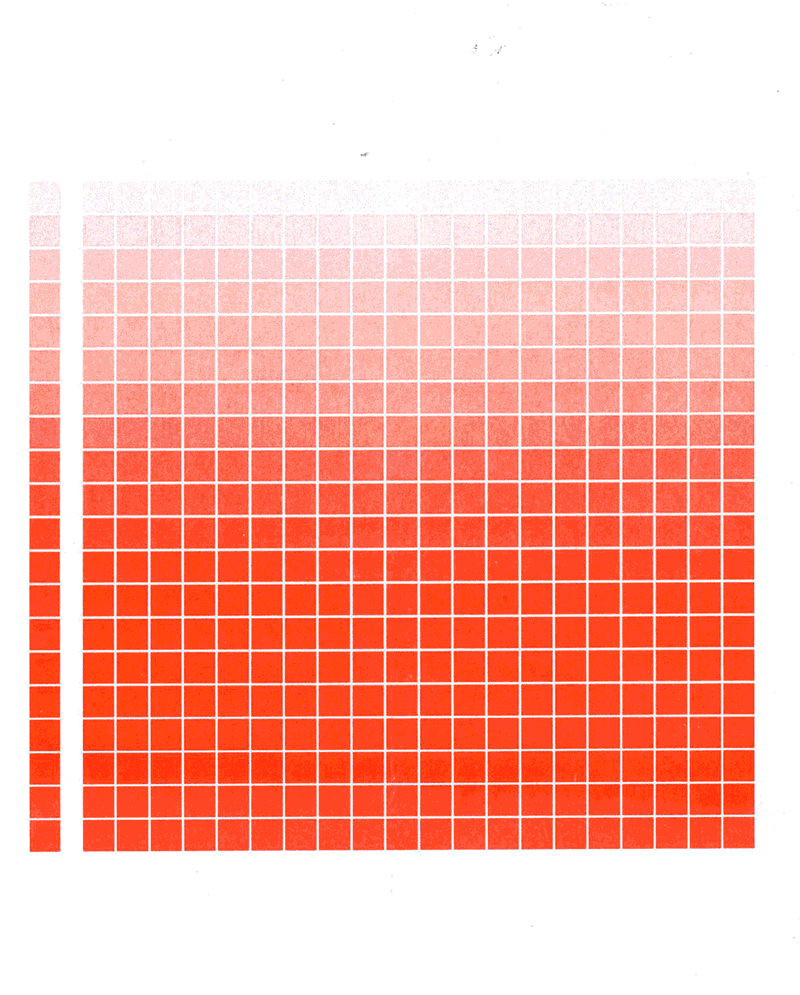 Riso has an incredible colour pallet to work with, but the machine itself
reads only in black and white. More to the point it reads tonal values.
This is important to note when setting up your files. When you are
wanting colours to print super bright & punchy that element needs to be
set to 100% black. To create paler shades, use a lower percentage value.
It's important to note that just changing your artwork to greyscale will
not often translate. Think of a bright yellow, if you turn that to greyscale
the tonal value of yellow is still very light. Therefore if you were to print
it without adjusting the levels you'd end up with a very light shade of
yellow where you expected it to be bold.

Risograph printing is not a precise art, so remember to expect some
inconsistencies across the edition of prints. Important things to note:
–  Not too much ink on the sheet as this can cause the
sheet to stick to the drum or even rip the sheet in two.
–  Avoid printing on certain areas such as the top & middle
of the sheet on multiple colours jobs this will cause roller
marks without adequate drying time between layers.
–  Add trapping for better registration of intricate elements,
an extra stroke helps a tighter lineup where needed.
–  Keep a 5mm border around your artwork as the Riso
doesn't print to the edge of the sheet.
Artwork needs to be sent to Liv at
o.white@brighton.ac.uk
All artwork, should be supplied in a high resolution (300dpi) pdf format
that is no more than 15MB. You don't need to include crop marks but
you do need to keep a 5mm border clear around the edge of the sheet.
It is important that you have considered the available riso colours and that
your digital artwork is as close to what you are wanting to achieve as possible.
Liv can then advise if anything needs amending before making your masters.
Here is a video guide to setting up files in Photoshop.
At Uni you'll be able to print at a low cost in comparison to
commercial Riso Printers. This will allow you to make the most
of understanding the process so that when you leave you'll be
able to confidently order prints feeling informed & without the worry
that they may not be set up correctly.
Riso was designed to run large quantities from one master so
unlike digital print doing a single print on the riso isn't ideal as
the time it takes to set up the print is normally longer than the
printing itself. The more you can run from your set up the better
so consider that when approaching a project. Once a master
has been used and cannot be reused after the initial print run so
will need to be set up again if you want to print more another time.
                  There is a minimum run of 15 prints from each setup.
                     If you only want a single copy, an alternative printer or photoshop would be better.`

The price is based purely on the materials used:
1. The number of colours (masters) makes up the bulk of the price
2. Paper + Ink – makes up the remainder
x1 Master (Colour) +15 Copies = £5
+15 Additional Copies = £2

For example:
A3 Prints
✦ 1 Colour, A3 Print x 15 Prints = £5             |        1 Colour, A3 Print x 30 Prints = £7
✦ 2 Colour, A3 Print x 15 Prints = £7.50        |        2 Colour, A3 Print x 30 Prints = £9.50
✦ 3 Colour, A3 Print x 15 Prints = £10           |        3 Colour, A3 Print x 30 Prints = £12
✦ 4 Colour, A3 Print x 15 Prints = £12.50      |      4 Colour, A3 Print x 30 Prints = £14.50
A5 Books / Zines
✦ x20 1 Colour, 16 page A5 Book (x2 A3 Sheets) – 4 Masters + 20 copies = £20 (£1per Book)
x20 additional Copies = £4  –  x40 Copies = £24 (£0.60per Book)
✦ x20 2 Colour, 24 page A5 Book (x3 A3 Sheets) – 8 Masters + 20 copies = £40 (£2per Book)
x40 additional Copies = £12  –  x40 Copies = £52 (£1.30per Book)
✦ x20 3 Colour, 64 page A5 Book (x8 A3 Sheets) – 24 Masters + 20 Copies = £120 (£6per Book)
x80 additional Copies = £64  –  x100 Copies = £184 (£1.84per Book) 
The money that covers the base materials goes shows that the machine is valued and will fund new drum colours! So the more you use it the more drum colours we will be able to get 🙂
                  If you've participated & want to leave feedback or want to vote for a                        new colour drum check out this form!:
                  https://docs.google.com/forms/d/1ZrKrfnAlOAjkgzczHpMDYQB0NfghutKjMnlVEV_8rVU/edit?pli=1#responses


Payment is taken on collection from your Unicard, so please
remember to add funds to it. Instructions for adding funds to the
Unicard can be found on the front page of MyStudies or
directly accessed using this link.
You must book a session slot to print your Risos.
To do this email Liv at DoppleStudentSessions@gmail.com
all the relevant information and your artwork.
There will be a click-and-collect service for those who've
been inducted & are able to provide artwork set up correctly.
Below are answers to a few of the Qs that you may have. If you need further help email Liv: DoppleStudentSessions@gmail.com
"How long will it take to get my prints?"
This will depend on several factors including, drying time (for multiple colour or
double-sided printing). Customer demand – there are limited sessions available through
the term and things get super booked up especially near to deadlines. Please remember
to book in advance and allow at least one week from confirmation to collection minimum.
"What colours can I print?"
We are currently have a choice of Pink, Blue, Yellow, Red & black.
Overlaying these cleverly can result in a print with a huge range of colours.
"what paper can I print on?"
Basic cartridge paper and make-ready paper will be provided but anything of a higher spec will need to be brought. A test will need to be run on the stock before confirming.
Basics: Max Size: A3   |    Paper Weight: 80 – 250gsm  |   Uncoated  |  Untextured |  Recycled
"How do I prepare my work for printing?"
The basic workflow is as follows:
1. Set up your artwork in Photoshop / Illustrator / software that allows layers.
2.  Set your page size to A3. (Place smaller prints on the page to reduce waste)
3.  Create new layers for each colour – different shades can be on the same layer.
4.  Save each layer as a separate 300dpi PDF files. (for every page/side).
5.  Convert your PDFs to greyscale & tweak the tone levels accordingly. 
"How do I get my files to you?"
Send your project info, deadline & artwork to o.white@brighton.ac.uk.
"Can I learn about Riso without doing a print run"
Yes! There will be inductions & workshops that will be free of charge to come and learn the ropes.