The Lancet Infectious Diseases article was selected for the Elsevier Atlas award, given to a single article every month from the thousands of papers published across Elsevier's 1,800 journals. The award recognises research with the potential to impact people's lives around the world.
Dr Jones, Reader in Molecular and Medical Microbiology at the university's College of Life, Health and Physical Sciences, and Head of Research Development for Queen Victoria Hospital, East Grinstead, was a member of the joint Wellcome Trust and Department of Health working party set-up to review the current alternatives to antibiotics portfolio, and recommend priorities for future funding.
The working party included academics, clinicians and industry representatives, and was chaired by Dr Lloyd Czaplewski (Chemical Biology Ventures Ltd) who led the review process, and development of the report. The Lancet ID article provides a high-level overview of the main working party findings, and has contributed to the governments ongoing review of antimicrobial resistance chaired by economist Jim O'Neill.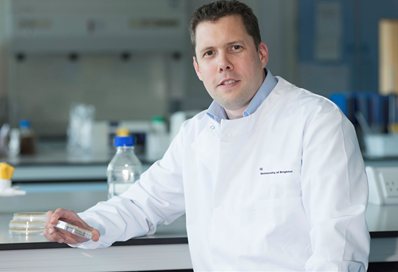 Dr Jones recently featured in the media for his groundbreaking research showing how bacteriophage – viruses that kill bacteria and one of the alternatives recognised in the review – may be used to combat common infections related to the use of medical devices such as catheters.
Dr Jones said: "I'm delighted that our work has received this recognition and feel privileged to have taken part in this review. In responding to the threat of antimicrobial resistance (AMR) it is vital that we consider all available strategies, including the use of alternatives to antibiotics where feasible, and how long these may take to develop. I hope this work will contribute to the delivery of an effective approach to tackle AMR."