World's largest underground skate park provides student opportunities
A disused Victorian swimming bath complex has been turned into the world's largest underground skate park – with help from the University of Brighton.
The 130-year-old building beneath the seafront promenade in Hastings, officially opened on 12 February, has been converted by a BMX and skateboarding brand Source BMX.
Harvey Ells, Principal Lecturer at the School of Sport and Service Management has been acting as the service provider, working with the management team at Source on planning aspects including retail layout. He has been supported by a Technology Strategy Board Innovation Voucher.
He said: "Following on from this initial work it has become clear that the university's School of Sport and Service Management can offer other expertise in the areas of sport coaching, sport and exercise science, sport business management, destination branding and retail.
"As of 29 February, we will have placed two of our Sport Business Management students with the organisation and we are now applying for a Knowledge Transfer Partnership (KTP) aimed primarily at setting up a formalised coaching and training programme for both skateboarding and BMX.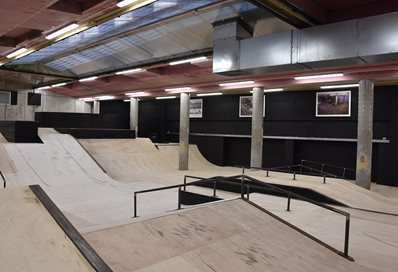 "We have a strong track record of retail-centric KTPs and this KTP will include aspects of retail diversification and the marketing of the proposed international BMX events as part of a world circuit.
"There are also discussions taking place with the university's broadcast media team in Hastings to provide a platform for the live streaming of events and in doing so supporting the Hastings curriculum.
"The long-term vision is to have one of the UK Olympic train venues located in the Source Park in preparation for the 2020 Olympics (when skateboarding is confirmed)."
The new £1.25m skate park, part-funded by councils and the Regional Growth Fund, was unveiled on 12 February with the hope it will turn the town into a world centre for BMX and skateboarding.
The Source, which is owned by brothers Rich and Marc Moore, invested £250,000 of the total budget but will recoup that investment within four years, according to the founders.
The venue's first official event has now been booked – a BMX competition called the Battle of Hastings. The competition will open a fortnight-long series of events in October to commemorate the 950th anniversary of the Battle of Hastings.
The new skate park will be able to hold 600 spectators across two balconies that overlook the main arena. BMX was included in the 2008 Olympic Games, and skateboarding has been recommended for inclusion in the 2020 Tokyo Olympics.