A special event took place at the Sport and Exercise Science Laboratories in Eastbourne campus on Saturday 28 January 2017 when the Para-Monte charity presented the University of Brighton with a cheque for £10,000.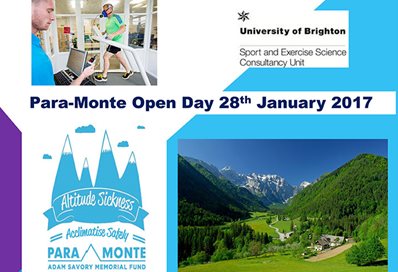 Overview
The Para-Monte charity presented a cheque for £10,000 to the University of Brighton, linked to equipment, research, education and ultimately raising awareness around altitude illness. The donation will be used to, raise awareness and educate schools, colleges and the wider community about the effects of altitude illness, and to fund research into assessing individual response to acute and chronic altitude exposure.
Para-Monte was set up in memory of Adam Savory in 2012. Adam was a fit and healthy 25-year old who lost his life to altitude sickness which developed following a 15-hour bus trip to the city of Cusco in Peru. Read Adam's story and find out more information about the Para-Monte charity.
Over 50 people attended the event. In addition, BBC South East, the Herald newspaper and the Eastbourne Buzz reported on the occasion through radio, television and online media.
Presentations were delivered by Dr Neil Maxwell and Ash Wilmott. Demonstrations then focused on screening tests in the hypoxic chambers featuring new, donated equipment. Speeches and the cheque presentation followed. Starting Gate provided the hospitality which was funded by the ECHO grant scheme.
Our collaboration with Para-Monte aims to improve prevention of the fatal consequences of altitude illnesses. Building evidence through our research will create new insights which will contribute to the charity's vision to:
raise awareness regarding health risks and dangers when travelling at altitude worldwide
promote and provide education on safe travel and altitude
promote and support research into the causes of altitude illnesses.
Para-Monte are releasing an altitude awareness app which will be trialled in our laboratories.
Presentations and media coverage
Dr Neil Maxwell on altitude exposure. View his presentation for more information. Ash Wilmott presented on the plan of action for the donation.
The BBC South East News team covered the event and covered the event broadcasting on radio, and television with a feature aired on Sunday 29 January 2017 at 6pm and 10:30pm.
Eastbourne Buzz filmed a segment and published on their online newsblog.
An account of the event was published on the School of Sport and Service Management blog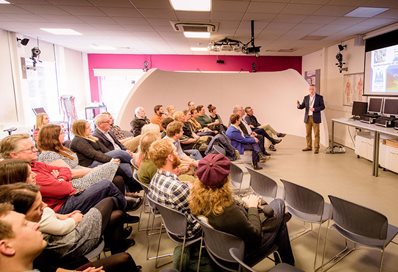 View Dr Neil Maxwell's presentation on altitude exposure
Event Impact
The collaboration between the Para-Monte charity and the University of Brighton enables research to improve understanding about the risks and appropriate responses to altitude illness. The research will have impact through raising awareness in schools, colleges and the wider community about the effects of altitude illness and investigating how to assess individual response to acute and chronic altitude exposure.