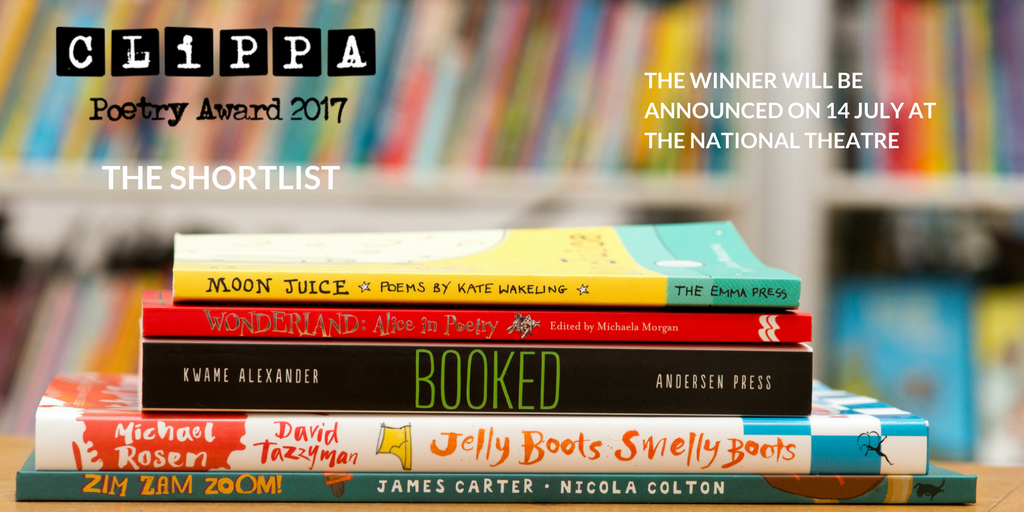 The shortlist for the Centre for Literacy in Primary Poetry Award (CLiPPA) has been announced. This award celebrates outstanding poetry published for children and remains the only such award in the UK. The 5 titles in the running for the 2017 award cover a range of age groups from Early Years up to Year 7 children. The free CLiPPA Schools Shadowing Scheme runs alongside the awards and you can register on the CLiPPA website to take part. Your class may be in with a chance to perform at the award ceremony at the National Theatre in London on 14 July 2017!
The 2017 shortlisted books are:
Zim Zam Zoom! by James Carter illustrated by Nicola Colton (Otter-Barry Books)
Perfectly pitched for the young listener or early reader with plenty of opportunities for joining in.
Access the EYS/Yr1 CLPE teaching sequence for this book here
Jelly Boots, Smelly Boots by Michael Rosen, illustrated by David Tazzyman (Bloomsbury)
Quirky, clever poems from those that involve humorous misunderstandings to thoughtful and more intimate musings.
Access the Yr 2/3/4 CLPE teaching sequence for this book here
Moon Juice by Kate Wakeling, illustrated by Elīna Brasliņa (The Emma Press)
A debut collection of poetry that presents magical, strange and unlikely events in a confident and persuasive way.
Access the Yr 4/5 CLPE teaching sequence for this book here
Wonderland; Alice in Poetry by Michaela Morgan (editor) (Macmillan)
Anthology celebrating the spirit of Wonderland with each poet bringing their own refreshing spin.
Accces the Yr 5/6 CLPE teaching sequence for this book here
Booked by Kwame Alexander (Andersen Press)
A free verse novel, written in the voice of 12 year old soccer-loving boy.
Access the Yr 6/7 CLPE teaching sequence for this book here
Watch some of the shortlisted authors and editors perform a poem from their collection