The Centre recently hosted a touring collection of international illustrated books from the IBBY Honour List 2014. Every two years, the International Board on Books for Young People (IBBY) produce an honour list of children's books from around the world in 3 categories: Writing, Illustration, and Translation. For the 2014 list, IBBY member countries from around the world sent in 150 nominations (in 39 different languages) for books they deemed to be characteristic of their country and suitable for publication in different languages. IBBY is a non-profit organisation whose main aim is to promote international understanding through children's books.
The 50 countries that submitted titles in the illustrated category were: Argentina; Australia; Austria; Belgium; Brazil; Cambodia; Canada; Chile; China; Croatia; Cyprus; Czech Republic; Denmark; Ecuador; Estonia; Finland; France; Germany; Ghana; Greece; Iceland; Indonesia; Iran; Israel; Italy; Japan; Latvia; Lebanon; Lithuania; Malaysia; Mexico; Moldova; Mongolia; Netherlands; New Zealand; Palestine; Poland; Russia; Slovakia; Slovenia; South Africa; Spain; Sweden; Switzerland; Thailand; Ukraine; UAE; UK; USA; Venezuela.
Hosting the collection of illustrated books proved to be a fantastic opportunity to explore a diverse collection of current children's books published from around the world. When we first received the collection, we put all of the books out on display and invited academic staff from the School of Education to have a look through the books and discuss ways in which they could be used in both their own teaching and also in their students' teaching practice. The event also resulted in a cross-curricular learning opportunity for those who attended, with staff from disciplines including Modern Foreign Language, Mathematics, Science and English eagerly discussing aspects of the books in relation to their specialisms.
Ideas for ways to use the books in classrooms that arose from the event included:
Using the books to experience what it feels like to be an EAL student
Looking at different illustration techniques/use of colour
Ways into Geography lessons on specific countries
Challenging gender and cultural stereotypes
Exploring the issues important to different countries
How culture and politics are reflected in the books
Looking at cross-cultural traditional tales (e.g. Little Red Riding Hood)
Exploring the different ideas on which topics/themes/images are acceptable for children in various countries – would you expect to see this in a book published in the UK?
For use in learning a foreign language
How we can 'read' pictures (could we grasp the story from the illustrations without understanding the text?)
The physicality of the book – e.g. do they open left to right or vice versa and why might this be?
Looking at intertextuality (e.g. Cinderella (Mexico), Virginia Wolf (Canada) and the Selkie legend (Germany))
Exploring different constructions of childhood
Looking at the universality of many maths concepts (e.g. numbers, shape, scale)
Challenging the assumptions drawn from judging books by their covers and quality
Exploring polysemy and multimodality
These ideas were then considered by students during sessions as they looked through the books in the collection. Comments from the students included:
Shows how an EAL student may feel by inviting you to sit in on a conversation you don't understand….shows different constructions of childhood and what is deemed acceptable to show (of the Denmark entry Raeve Faelden)
Use of stepmother is characteristic of children's literature around the world (of the Mexican entry Zezolla)
Surreal illustrations – can't decode story from pictures (of the Polish entry Wszystko Gra)
The book could be useful for learning Italian – simple vocab and it's repeated (of Italian entry Il Libro Gatto)
Repetition and rhythm – useful in learning a foreign language (of the Swiss entry Pas le Temps)
Cross cultural links -Lobo is the Brazilian [Red] Riding Hood parody. Would expect it in the UK. Can read images to know basic story (of Brazilian entry A Fome do Lobo)
Use of colour explores how colour reflects emotion – lack of colour = sadness, focus on blue in tough times. Politics – idea we should let people in, sharing of cultures (of the UK entry Azzi in Between)
Can be used across different languages – useful for learning to count in another language (of the Netherlands entry Nul is een raar getal)
Understand EAL children's point of view, as we could speak a little German, but it was frustrating when we couldn't understand it (of German entry Wenn ich groß bin, werde ich Seehund)
Similar language used but not as we know it "they thundered through the stringybarks" and "colts and fillies, duns and dapples" (of Australian entry Lightning Jack)
Challenges gender stereotypes as it is a female protagonist interested in boxing. Looks like a book that would be published in the UK, the themes from the pictures do not look too dissimilar  (of French entry Brindille)
The use of colour to represent the emotions of the two sisters is very effective (of Canadian entry Virginia Wolf)
Useful for learning about Arabic culture. The book looks interesting and enticing, especially to someone from a different culture (of the United Arab Emirates entry Rihlat Dana)
Staff and students were also eager to point out some real standouts both in terms of visual appeal but also in terms of content. The collection really allowed our students and staff to challenge their views on what is appropriate for children.
Oxiseau illustrated by Pittau & Gervais (Belguim)
One of the favourites of the collection was a beautifully lavish over-sized book from Belgium called Oxiseau (Birds of a Feather). This is a non-fiction book about birds and uses more than 40 flaps and 15 pop-ups to give the reader clues about the identities of the birds, providing an absorbing interactive and tactile experience for readers of any age. This would be a very useful resource for teaching science, art and languages (not just French, in which this book was written, but as a way of identifying the birds in a variety of languages).
Eriin sain Uai Uai  illustrated by Noov Amarjargal (Mongolia)
(apologies for the quality of the image but it is the only one I could find)
One of my favourites, due to having such an unusual storyline, was the Mongolian entry, Eriin sain Uai Uai (Hero Uai Uai). The story takes place in a womb with a small foetus as the main character, a brave cartoon-like warrior who battles against invading enemies such as pollution and injustice until he is ready to be born. The underlying message being that the womb is a metaphor for the world and our constant struggle for life. The cartoonish illustrations are brightly coloured (a garish reddish pink for the background scenery of the womb!) and were made using a computer technique. On first glance I assumed this was a picture book for young children as the layout and size of the book seemed most similar to that of a UK picture book (albeit a bit more flimsy) and I was quite taken aback by the storyline. However, the description indicates the age range as 8-15 which then made me think of the book more in terms of a comic or graphic novel and suddenly the storyline didn't seem odd at all! I could definitely see 'Foetus Warrior' becoming a popular comic book hero in the UK.  Challenging ingrained assumptions, like what a book for teenagers should look like, is exactly the sort of thing that makes this collection so interesting. I didn't realise that I had subconsciously formed so many 'rules' about the format of books.
 Rævefælden illustrated by Otto Dickmeiss (Denmark)
Another standout from the collection in terms of content was the entry from Denmark, Rævefælden (Fox Trap). This book is aimed at ages 5-8 and features Gustav, a gun-toting boy who takes bloody revenge on all foxes after his beloved rabbit is killed. After removing a rifle from his father's huge collection of firearms, Gustav shows no mercy and becomes so deranged in his grief and subsequent slaughter of the fox population, that he begins to resemble a fox himself.  Although the storyline is redemptive, the image of a child with a gun was considered quite shocking by many of the students as they couldn't imagine seeing this in a UK children's book for this age range.
Wenn ich groß bin, werde ich Seehund illustrated by Nikolaus Heidelbach (Germany)
A second title which contained images that we would not usually see in a UK children's book was the entry from Germany aimed at ages 4+. The story, drawn from the Scottish and Irish legend of the Selkie, contained images of mermaids which were depicted with bare breasts and armpit hair. That we were surprised at the inclusion of these two natural features indicates that we aren't as liberal in the UK as we had first assumed!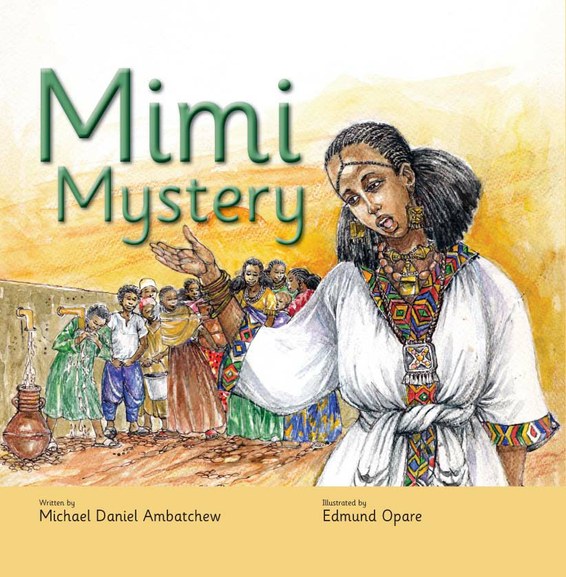 Mimi Mystery illustrated by Edmund Opare (Ghana)
In terms of storyline, the entry from Ghana was highlighted by the students as one which emphasised cultural differences. The story follows Mimi, a girl who lives in a village in rural Ethiopia. She has a wonderful singing voice but is told by her mother that respectable girls don't do such things as sing in public. Mimi becomes very upset and stops singing altogether. This changes when she goes to stay with her city-living aunt in the bustling capital of Addis Ababa where she is able to sing under a pseudonym. Her subsequent fame means she can send money anonymously back to her village and they buy a much needed water pump in a time of drought. Now she is able to remain faithful to her mother's wishes whilst fulfilling her own dreams and helping her village. Some students were uncomfortable with the way the book presented Mimi living a secret life as a solution to her problem and debated whether they would choose to use this story with their classes. This raised some interesting questions over whether they were imposing their own cultural values onto this story as the book is actually depicting the often harsh reality of the clash of traditional culture and urban life in Ethiopia.
It is exactly this type of debate which emphasises the importance of the IBBY Honour List in encouraging international understanding through children's literature. It was a fantastic opportunity for us and thanks to the students from Sandra Williams' and Pamela Lewis' classes, and staff from the School of Education for taking their time to provide such a wealth of feedback on the books in the collection. We look forward to seeing what the 2016 Honour List will bring! The nominees can be viewed here.