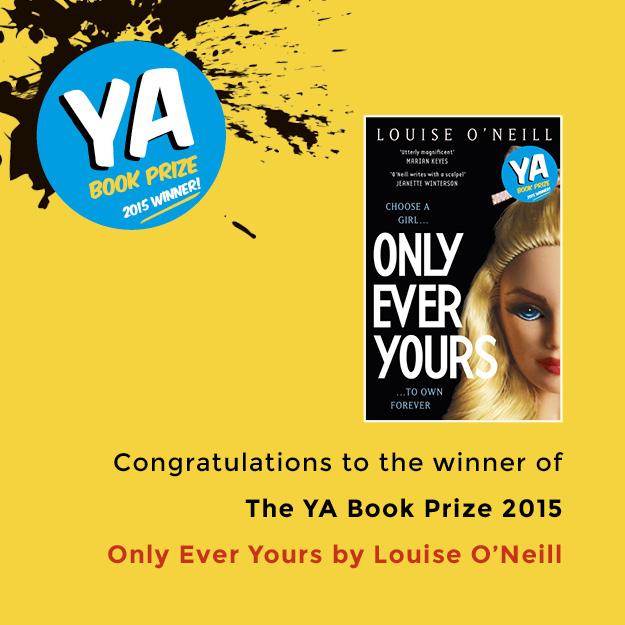 The YA Book Prize  is a brand new prize that focuses purely on UK and Irish books for young adults. The first winner of this prize is Only Ever Yours by Louise O'Neill which has been described as a cross between The Handmaid's Tale and the film Mean Girls. Intrigued? I certainly was! And even more so after reading this synposis on Amazon.co.uk:
In a world where woman are genetically engineered, designed to perfection, with the soul purpose to please men, freida and isabel are starting their final year. At the end of the year, it will be decided if they will be a companion to a man, being his wife and baring him sons; a concubine, living out life in a harem, giving sexual gratification to any man who wants them; or a chastity, a nun-like woman who lives a life of quiet selflessness or as a teacher at the School. There are only ten men who can choose from the 30 available girls – only ten will become companions. Everyone is eager to be the most beautiful, and competition and cattiness is encouraged, as is self-hate and the desire to always look better. In this final year, while all are excited and eager to see what the outcome will be, isabel starts putting on weight and neglecting her appearance. frieda cannot believe what her best friend is doing, but if she wants any future for herself, how can she be seen to feel anything but disgust for her friend?
The other contendors for the YA Book Prize were:
Goose by Dawn O'Porter (Hot Key Books)
Salvage by Keren David (Atom/Little Brown)
Ghosts of Heaven by Marcus Sedwick (Orion)
Trouble by Non Pratt (Walker)
Lobsters by Lucy Ivison and Tom Ellen (Chicken House)
Finding a Voice by Kim Hood (O'Brien Press)
Say Her Name by James Dawson (Hot Key Books)
A Song for Ella Grey by David Almond (Hodder Children's Books)
Half Bad by Sally Green (Penguin)
In other book award news, the Waterstones Children's Book Prize winners have been announced with Rob Biddulph's picture book, Blown Away as both the overall winner and winner of the best illustrated book. The rhyming story follows a penguin who gets blown away with his kite on a windy day, picking up friends along the way. Robin Stevens won the best book for younger readers with her detective story, Murder Most Unladylike and the best book for teens was judged to be Half Bad by Sally Green (also shortlisted for the YA Book Prize above).