Criminals are using antique weapons due to a loophole in UK law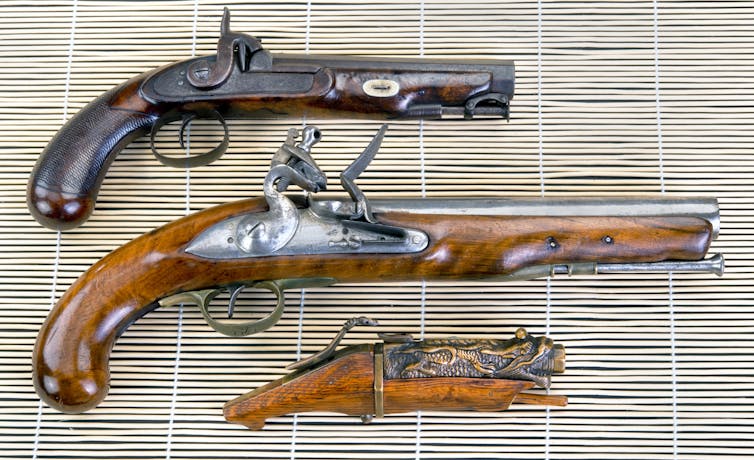 Helen Williamson, University of Brighton
Antique guns are increasingly cropping up in violent crimes due to a lack of control around the sale, transfer and ownership of firearms made before 1939.
Between 2008 and 2016, four fatalities were linked to the use of antique weapons, while the number of antiques recorded in crime increased from four in 2008 to 91 in 2016.
Antique weapons are exempt from the Firearms Act 1968 under Section 58(2) – though at present there is no clear definition of what constitutes an antique. Instead, the Home Office provide guidance on what should be considered "antique" based on a number of factors including loading mechanism, age (pre-1939) and if its calibre – the diameter of the projectile it shoots – is obsolete. This supposedly makes it impossible to find suitable ammunition. There is also the additional requirement that an antique firearm must be held as a curiosity or ornament.
Since the introduction of the centerfire cartridge and firing mechanism in the mid-1800s, there has been no significant change in design. This means that some antique weapons have the same firing mechanism as those in production today – it is only their calibre that is classified as obsolete. In essence, then, these firearms are fully functioning weapons, as accurate and deadly as firearms that are currently restricted.
So it's no surprise, then, that ex-offenders have reported a preference for antiques weapons over other "junk guns" such as unidentified, unknown or reactivated firearms, which can be inaccurate, under-powered or even backfire.
Loopholes
Obsolete calibre may differ fractionally in casing length, or rim depth, from ammunition commercially available today. These differences are enough to cause the ammunition to jam and prevent the gun from firing. As such, they might seem safe – but current ammunition can be modified relatively easily by milling down the length or the casing, or rim, using equipment freely available.
Paul Edmunds, a gun dealer, was recently jailed for supplying antique weapons and modified ammunition reportedly linked to 100 crimes, while in another case a family were jailed for supplying guns as well as modified ammunition to fit antique weapons.
As antique weapons are exempt from firearm legislation, there is no need to hold them on a firearms licence. They can be transferred and sold freely for cash – and there is no requirement to record any details of the transaction. As such, they cannot be traced. In July 2014, an amendment to the Firearms Act prevented those who have served a prison sentence or have a suspended sentence from possessing an antique firearm, but this doesn't seem to have had much effect. A recent BBC Panorama documentary demonstrated the ease of purchasing an antique weapon, the reporter was not asked about their criminal background at any stage during the transaction.
The importation of antique firearms is another area of concern. No import licence is required for a firearm manufactured before December 31 1899, meaning an antique weapon has the potential to be treated the same as any other antique. It is only once in the UK that it is subject to any relevant legislation.
Criminals such as Edmunds have exploited this lack of licence requirement by falsifying customs paper work and declaring weapons as antiques when in fact they were prohibited weapons. Of the 280 known firearms Edmunds imported, there is currently no trace of 207. It can be inferred that these weapons have become part of the criminal market.
A worrying example of a firearm classed as an antique due to obsolete calibre is the Smith & Wesson .44 Russian Revolver, which was the weapon used in the murder of Carl Campbell in 2016. A simple internet search identifies a website where ammunition is available, albeit in America, and another in the UK selling a pack of 100 ammunition casings for as little as £27.50.
Where next?
A government consultation on this topic in 2017 aimed to clearly define what the term "antique" means and provide a cut-off guidance date for manufacture. The feedback received from this consultation is currently being analysed, but available responses show that some organisations suggest that no calibres currently identified as obsolete should be reclassified. In fact, they believe the list should be broadened. This is in opposition to the recommendation of the National Ballistics Intelligence Service who are seeking to have certain calibres removed from the list so that criminals cannot continue to exploit their availability.
My research focuses on criminal armourers and their role in illegal firearm supply. We need to gain a deeper understanding of why people become involved in this activity, along with identifying a wider range of intervention points, to prevent others becoming involved in the future.
Considering how legislation around antiques is being exploited, it is now time to define an antique based around the time and effort required for its firing mechanism, rather than by a series of ill-defined factors. Take the original manufactured muzzleloader, where the user must first load the weapon with powder, followed by the bullet before using a ramrod to push the bullet into the barrel. This procedure is cumbersome and impractical for use in crime.
At the very least, we should begin to monitor the sale, transfer and importation of antique weapons. If there is legislation in place to prevent the sale of scrap metal for cash, why is it possible to buy an antique firearms this way? Replacing cash sales to bank transfer would add a level of traceability. If a firearm can be traced, then there is far more chance of control.

Helen Williamson, PhD Candidate, University of Brighton
This article is republished from The Conversation under a Creative Commons license. Read the original article.