This blog post covers 7 key things you should be thinking about when creating your business website. You will need a WordPress ready website to follow these steps. Click here to go to my previous blog where I show you how to create one.
The tedious planning and preparation
Many professional web developers suggest that to build a great website, a little planning goes a long way. Not only will it give you a sense of direction, fixing a site post-develop is difficult so it is worth the effort trying to do it right the first time.
1.Setting objectives
Planning starts with setting objectives. You should consider: 
What are the business core values?

Why do you need a website?

What message do you want to send to the site visitors?

What do you want the website to do?
To answer these questions you might want to look at your business model, strategy, competitors and most importantly customers. An important aspect of setting objectives is good understanding of customers which could be achieved through customer persona. Customer persona helps you envision your target customer in detail allowing you to understand customers better and therefore setting appropriate objectives. Click here to get a customer persona template. Your objective should also be specific, measurable, achievable, realistic, and timely. (SMART) Here is a SMART objective guide.
2. Prepare the basics
Next, make sure that you have basic brand assets and content to satisfy your website need. Brand assets are any type of file, image or document that identify you from other providers.
Brand Name

Logo

Font

Slogans

Tagline

Mascot

Typography

Jingles

Celebrities endorsing the brand

Social media channels
One of the most important brand assets is Logo. Researchers have found that logo designs have useful applications in different contexts such as green/eco-marketing. Therefore, you should design your logo that suits both the products and services you offer and your particular client base. (Kim and Lim, 2019)
Simply put, brand content is the story information about your company and product. Basic brand content includes:
Company content

Story of your business history 

Mission and vision

Product information

Contact information

Location

Operating hours

Phone number

Email address

Social media account
Content is not limited to writing, it could be in various forms engaging customers in different ways as shown below.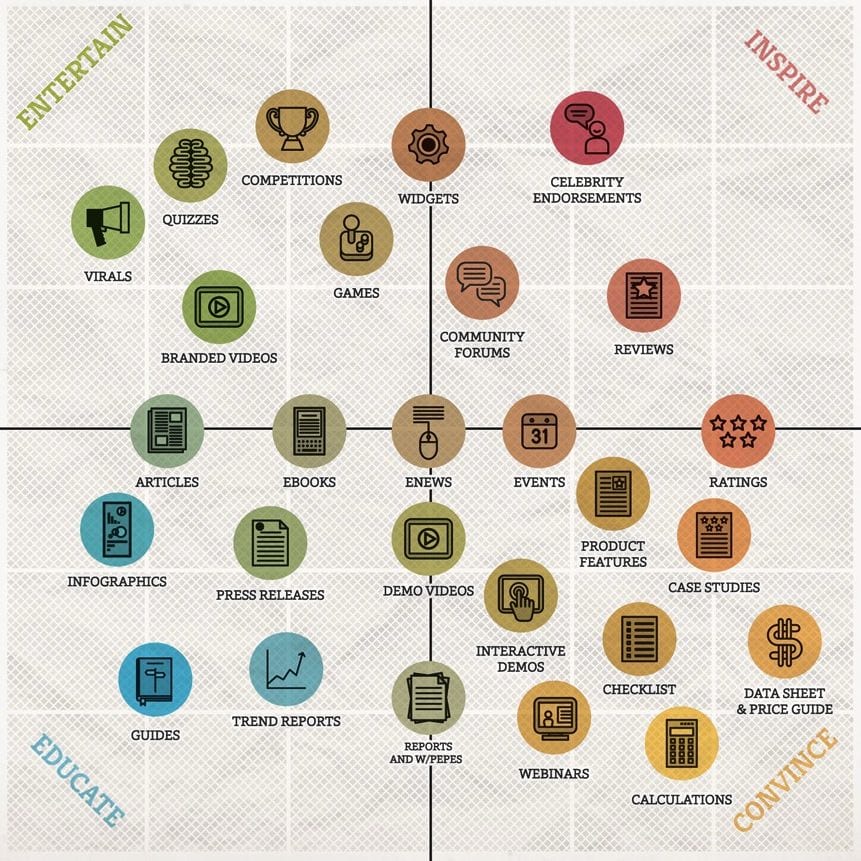 Click here to learn more about content marketing.
Here comes the designing
3.Learning a page builder
Building a website for a first-time web developer like us has never been easier with the existing WordPress page builders. A page builder is a WordPress plugin is an alternative, usually more intuitive, to WordPress own editor. In our case, a page builder should allow us to design complex layouts visually, and design the website live, with little to none coding knowledge and not having to switch between the editor and the preview mode. Following is a list of beginner-friendly page builders:
Elementor

Beaver Builder

Divi Builder

Brizy
4.Setting Design Direction
In this step, you should consider the theme most suitable for your business and brand. A website could be seen as a form of storytelling and the backbone of a story is its theme. A theme is an underlying idea you are trying to convey to the website visitor. A theme usually is a combination of different sizes and types of fonts, colour schemes and the aesthetics of the website. 
There are two ways you can find themes. The first is through WordPress themes directory. The second way is through independent theme shops such as Generate Press and Astra and Theme Forrest. Both options offer free and paid themes.
Colour should be one of your main concerns when choosing a theme. Colours could evoke emotional responses, such as red with aggressiveness and dominance. (Elliot, 2015) In the matter of using colours on your website, you should consider the findings from the previous steps on customer and your product. Click here to learn how to use the power of colour in your branding. 
Moreover, you should also pay attention to colour matching by learning the basic elements of colour theory. Below is the "Color Theory for Noobs".
5.Designing key pages
Once you have chosen your website theme and established your website objectives and have prepared basic company content, you can begin to visualize the website key pages by asking "what are the pages you need in order to deliver your objectives?"
To answer the first question, a good rule of thumb is to keep it simple by giving each page a single objective and using a technique called wireframe. Wireframing is a designing process where you create a visual guide that represents the mock-up version of your website. It can be done easily on WordPress (usually comes with your theme), hand-drawing or using an online template. Click here to learn more about wireframing. 
6.Designing a sitemap
In this step, you will map out the relationship between different pages. A confusing site may turn away customers. A sitemap helps ensure clear site navigation not only for customers but also search engines like Google, Bing, Yahoo and Ask.com to better index your site. Click here to learn how to create a sitemap and see the following table for WordPress sitemap Plugins. 
7.Designing functions
For the pages you designed, think of their key function by asking "what task does each page have to perform (key features)?"
Designing functions can be straightforward for some pages and very complex on another depending on the task and the involved party.
For instance, if you are a restaurant business with a menu page then the key feature would be simply a page with text, pictures and/or video. On the other hand, if you are an eCommerce, on a checkout page, you may need a more complex payment processing function which is connected with different payments system providers such as PayPal, Visa and Mastercard which is also tied to your internal ordering, accounting and customer email system.
The good news is, WordPress has a function called plugin. Think of it as a WordPress app store where you could browse for a pre-made software that provides you with the needed key function. There are more than 52,000 plugins surely, this blog post could not name them all but there are plenty of online plugin guides specifically for your business. I have put together a list of useful plugins that most businesses would benefit from.

Bonus
The shortlist below contains design elements academic researchers believe help facilitate user engagement.


(Garett et al., 2016)
References
Elliot, A. (2015). Color and psychological functioning: a review of theoretical and empirical work. Frontiers in Psychology, 6.
Garett, R., Chiu, J., Zhang, L. and Young, S. (2016). A Literature Review: Website Design and User Engagement. Online Journal of Communication and Media Technologies, 6(3).
Kim, M. and Lim, J. (2019). A comprehensive review on logo literature: research topics, findings, and future directions. Journal of Marketing Management, 35(13-14), pp.1291-1365.